Our story
---
Zuzia was 12 years old, Franek 4, when we decided to help Chime – a Tibetan looking for a flat in Poland. She did not have a home, we in turn had the need to help.
The story of Chime is amazing, she abandoned her family home as an 11-year-old and fled through the Himalayas to India, where she went to school. And because she was not a good learner, she was relegated from this school. For a little girl from Tibet there are two options in this situation: either you become a prostitute or … a seamstress.
And here another problem appeared – Chime could not sew. Uncle Ajamlama and the Sam Jub Ling Foundation came to her help, who at the invitation of the Bednarska School Complex decided to bring her to Poland as part of the multi-culti program.
Her cousins, Sonam and Lodroma, who had arrived earlier also at the invitation of the Foundation, Uncle Ajam and the school, were already there. However, as it turned out during her trip – coming to Poland without a passport was by no means an easy undertaking. Chime had only a refugee travel document issued by the GOI that did not allow her to board FinnAir airplane. In the end, however, she flew out.
We met Chime on the second of May in Warsaw, at Union of Lublin Plaza.
She came to meet us in accompanied by her uncle and Donata from the Foundation. The next meeting was already at our home, where it turned out that the Ajam's Foundation is looking for a home not only for the then eighteen-year-old Chime, but also for two years younger Londroma and fourteen-year-old Sonam. The girls had already lived in Poland, which is why they also spoke Polish to a small extent. Chime spoke only Tibetan, poor Chinese, no English to mention.
Holidays began, during which we decided to take care of them. The girls gradually began to win over more and more family members – starting with my dad. We did not need much time to understand that girls should stick together. We started from the youngest. In September Sonam moved in with our Zuzia in the room. It was not easy. We knew that we lack experience, we acted intuitively. And it was only September … Sonam's guardians were completely different people, we did not have any documents and papers, and in our heads one more question was still roaring: What next?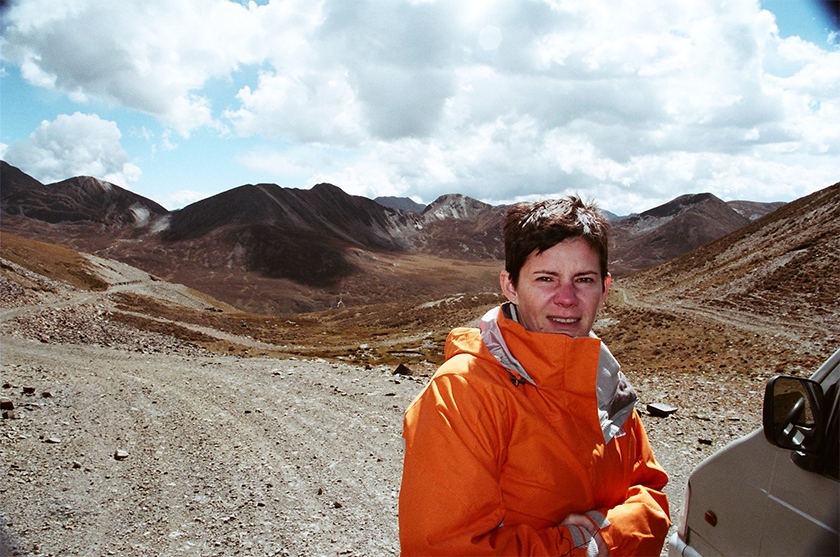 Kasia Skopiec on the way to Tica, the birthplace of Sonam and Kandżu
Mrs. Donata from the Foundation gave us the idea of going to Tibet, where we were to meet Sonam's parents. We did not second-guess ourselves, we did not think much, we went to Tibet, the three of us – me, my husband and Donata. Along with our visas and the desire to take care, we took with us: photos of Sonam and Zuzia, a whole backpack of toys, Sonam's letter to her parents, my grandmother's ring, which we wanted to give to Sonam's mother, and a notarial deed prepared before departure, in which her Dad entrusts us with his child.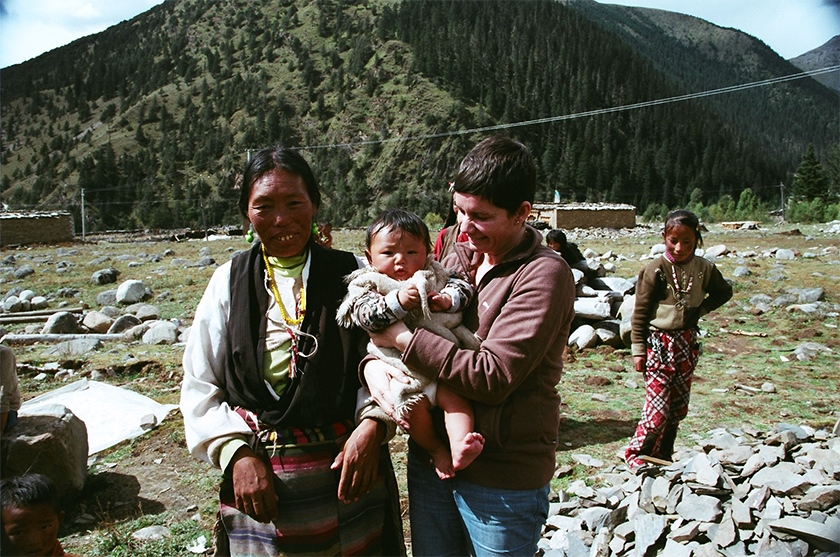 Kasia Skopiec with Baba, mother Sonam and Kandżu, and their brother Dawaseng (2008)
After obtaining adoption documents for Sonam, our new life with three children began. Whenever it turned out that we lacked skis, bikes or clothes, someone would be willing to help. Marysia Kowalewska started the "happy sack" campaign, and Ania Ambroziak helped with ski equipment and beautiful clothes. Everything finally started to fell into place.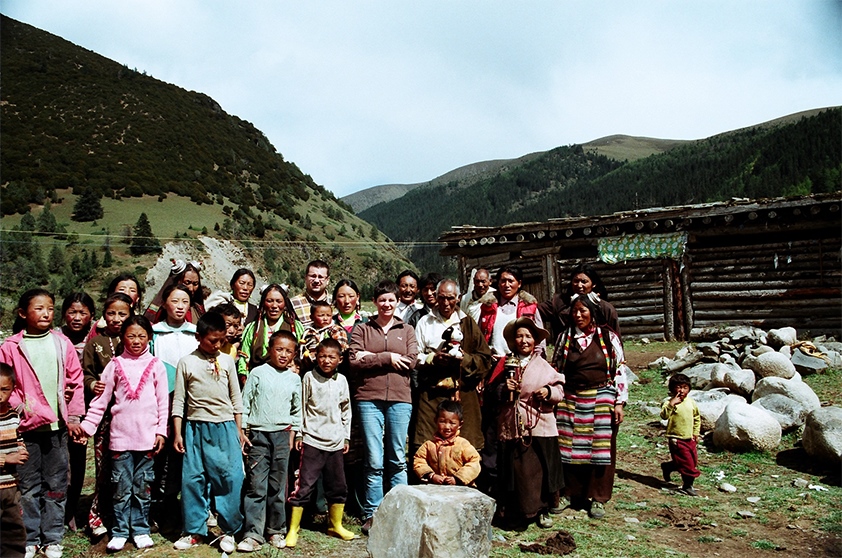 The idyll was broken by the death of Sonam's cancer-afflicted mother. At that time, the thought about the adoption of Kandżu, younger sister of Sonam, germinated. Our financial situation at the time would not allow us to take this step, fortunately we met another good people again on our way. Krzysztof Sajnóg helped us to make the journey after Kandżu, also paying for her ticket to Poland. It was not easy, I did not fall in love with her right away, but we did not need a lot of time to change this situation.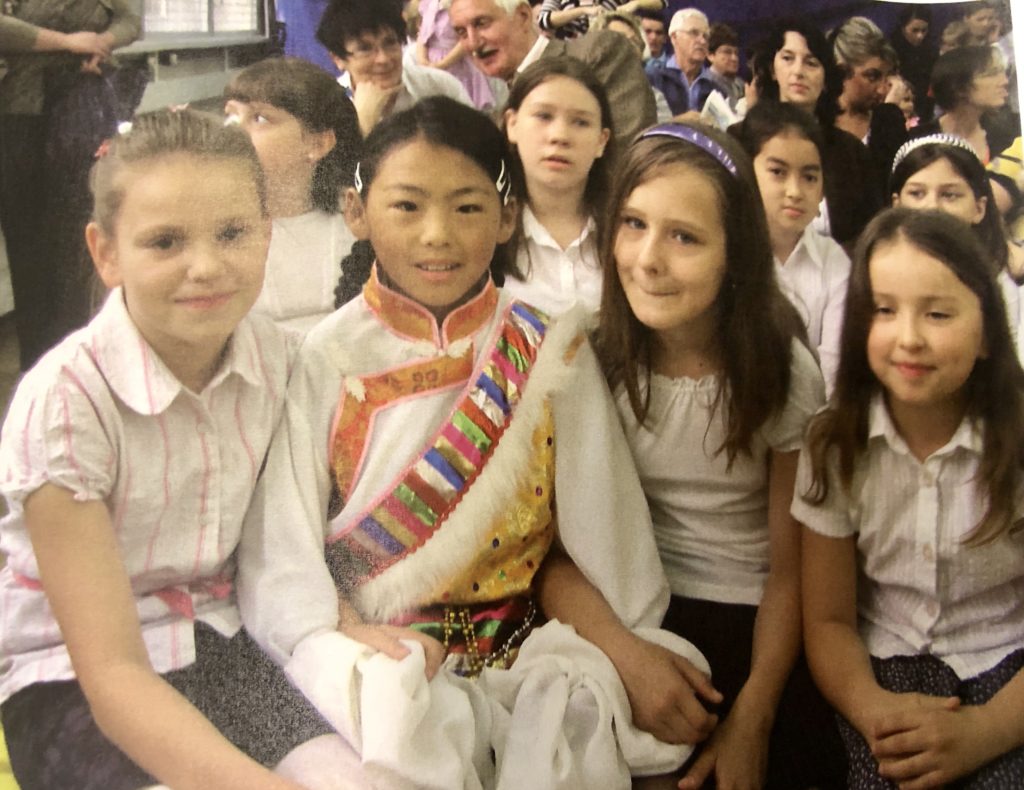 Kandżu with schoolmates
And so we started the next chapter of our journey together. The most beautiful one we could ever imagine.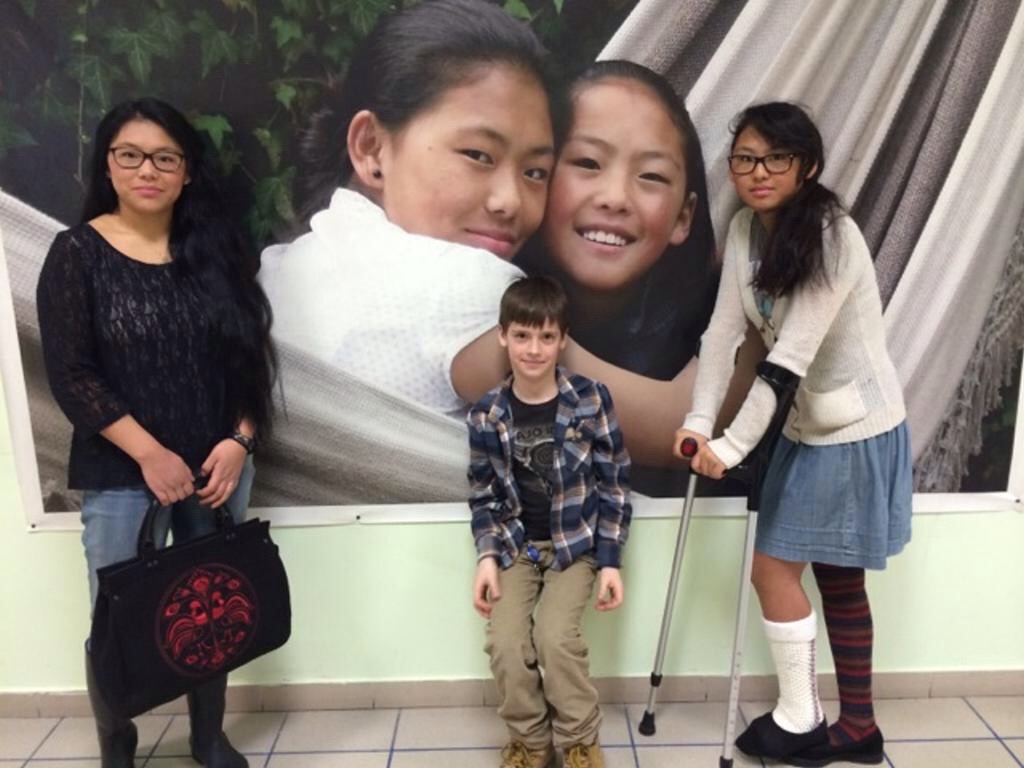 Sonam, Franek and Kandżu in 2014
---